It is formidable to be back in Paris! Here are some changes I've noticed since my last visit: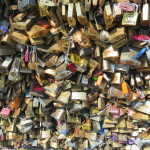 Love locks: there are even more love locks than a year ago, they are spreading like kudzu, you can feel the poor ponts groan beneath the weight. Paris government is cracking down by removing tons of the locks from the bridges.
Selfie sticks are partout! Beware as you walk down the sidewalk not to get clobbered by one. Good news, many museums don't allow them.
Shakespeare and Company has changed the floor plan of the entrance, when you walk into the store now it feels more spacious and it's easier to browse the shelves of books.
Things that have remained the same since my last visit:
Wedding portraits on every corner–of course there couldn't be a more romantic backdrop than Paris.
The waiters at my favorite café the St. Regis–Alain and company are still there, delivering a café crème to the table toot suite. Forget the old stereotype of the surly waiter, this crew is sympa! (for surly waiters go across the street to the Brasserie.)
Bouquinistes–the booksellers at their stalls are something you can count on seeing n Paris, like the gargoyles at Notre Dame Cathedral and barges on the Seine.